Canada has beautiful and interesting cultures, especially when it comes to weddings. Taking advantage of the colorful cultural heritage of Canadian wedding traditions on your big day could be a hassle, but it's fun.
So, if you're planning a wedding in Canada, you're in for a treat! From the traditional wedding attire to the delicious food and the lively music and dance, Canadian weddings are full of joy and celebration.
That's why you need to read this article! We'll discuss some of the most interesting and colorful Canadian wedding traditions. With this post, you can make your wedding day unforgettable.
The Significance of the Wedding Ceremony
In Canada, the wedding ceremony is the most crucial part of the wedding. It's the moment when the couple exchange vows and commit to each other in front of their family and friends.
The ceremony usually takes place in a church or a wedding venue, presided over by a minister, priest, or other religious leader. However, many non-religious ceremonies are just as meaningful and beautiful.
One of the most amazing Canadian wedding traditions is the exchange of wedding rings. The rings symbolize the couple's love and commitment to each other. They are worn on the fourth finger of the left hand.
Another tradition is the lighting of a unity candle, which symbolizes merging two families into one. The bride and groom each light a candle and then light a larger candle together to represent their union. However, these two trends aren't exclusive to Canadians.
Pre-Wedding Traditions
Pre-wedding traditions add to the excitement and anticipation leading to the big day. Now, we'll take a closer look at some of Canada's most common pre-wedding traditions.
Engagement Party
Before the actual wedding, couples often have an engagement party to celebrate their upcoming nuptials.
The couple or their families typically host this party. This may include the groom or bride's parents, close friends, and family members.
It's an opportunity for everyone to congratulate the couple and share their excitement. Engagement parties can range from a casual backyard BBQ to a formal affair, depending on the couple's preferences.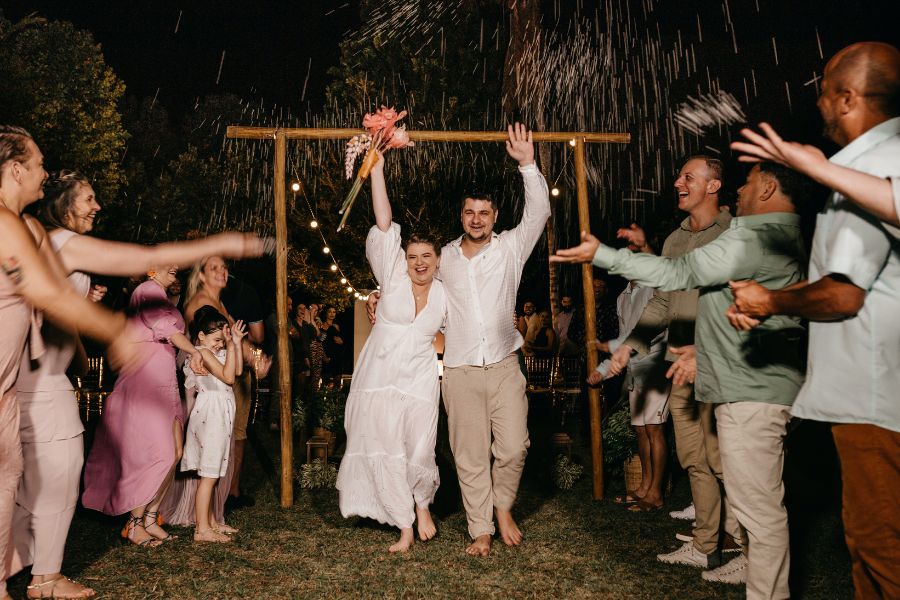 Bridal Shower
Here's one of our favorite pre-wedding traditions! A bridal shower is a celebration in honor of the bride, typically hosted by her bridesmaids or close female relatives.
The purpose of the shower is to "shower" the bride with gifts and well wishes before the wedding day. It's a fun and lighthearted event that often includes games, food, and drinks.
Weddings should always be fun!
Stag and Doe Party
The stag and doe party, a Jack and Jill or a Buck and Doe, is a pre-wedding event that raises money for the couple's wedding. It's typically hosted by the couple or their bridal party.
And yet again, it comes with thrilling games, raffles, and a lot of dancing. Stag and doe parties are an exciting way for couples to celebrate with their friends and family while raising money for their big day.
Bachelor/Bachelorette Party
The bachelor and bachelorette party is a pre-wedding tradition that allows the bride and groom to let loose and have fun with their closest friends.
These parties can range from a weekend away to a night out in the town. By hosting a bachelor/bachelorette party, couples can celebrate their last days of being single before they tie the knot.
Rehearsal Dinner
The rehearsal dinner is a pre-wedding event the night before the wedding. The groom's parents typically host it, including the wedding party and immediate family members. Rehearsal dinners are precisely what the name suggests: wedding rehearsal. But what's rehearsal without a happy meal together? In essence, the rehearsal is an opportunity for the families to get to know each other better.
Trousseau Tea
Although obsolete, Trousseau tea is still a tradition worth noting.
The practice has declined over the years, and it's hardly surprising. The Trousseau tea ceremony gathers the bride's female friends and family members, typically hosted by her mother or maid of honor.
But it's often a way to gather people who didn't make the wedding guests list. This ceremony enables the bride to host her other guests even though they won't attend the party.
Other Wedding Traditions
Traditional Canadian Wedding Attire
The usual wedding attire for Canadian brides is a white wedding dress, symbolizing purity and innocence. However, this tradition has many variations, and brides are free to choose any style or color they like.
Grooms wear a suit or tuxedo, and they often add a touch of Canadian flair by wearing a maple leaf pin or cufflinks.
The bride complements the wedding dress with a wedding veil. This veil symbolizes purity and modesty, and it's almost essential to wear it during the wedding celebration.
Sometimes, the veil is passed down from generation to generation, making it a cherished family heirloom.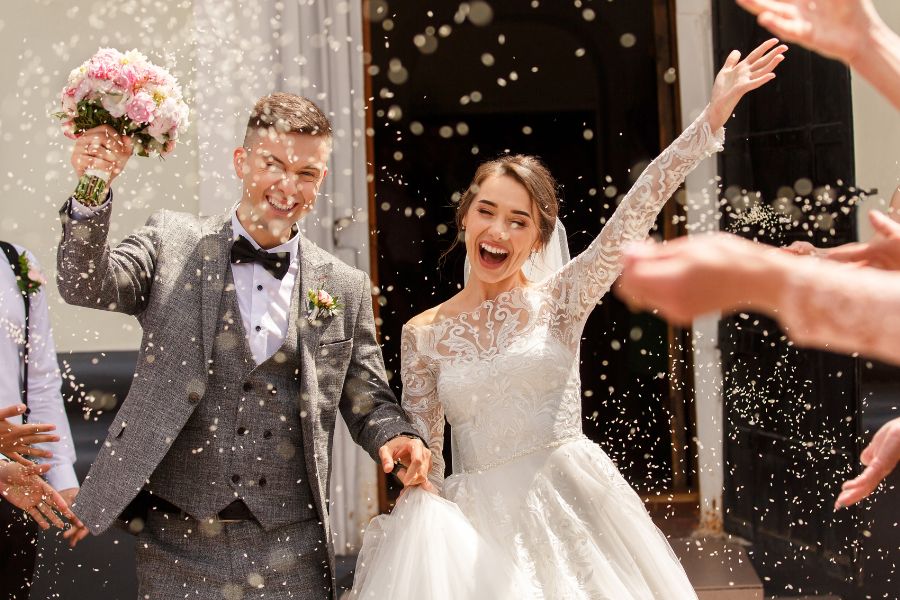 Wedding Dance
You can incorporate different wedding customs into your wedding celebrations. For example, the "wedding dance" is a popular tradition in French-Canadian weddings.
During the dance, the French-Canadian brides and grooms are surrounded by their guests, who form a circle around them and dance in time to the music.
Money Dance
Another tradition is the "money dance," which is common in Ukrainian weddings. During the dance, guests pin money onto the bride and groom's clothing to wish them prosperity and good luck. This tradition also allows guests to contribute to the couple's wedding expenses.
Canadian Wedding Reception
Canadian wedding receptions are typically held in the evening following the wedding ceremony.
They can range from an intimate gathering of close family and friends to a grand affair with hundreds of guests. The reception is a time for the newlyweds to celebrate with their guests, enjoy delicious food and drinks, and dance the night away.
One of the popular Canadian wedding traditions at wedding receptions is the "first dance." Newlyweds take to the dance floor for their first dance as a married couple. It's a beautiful moment that symbolizes their love and commitment to each other.
Wedding Cake Cutting
A Canadian wedding celebration without a wedding cake is incomplete! The wedding cakes are typically multi-tiered and adorned with beautiful decorations. However, newlyweds participate in the cake-cutting ceremony as a part of the wedding reception. During this fun ceremony, they cut the cake together and feed each other a slice.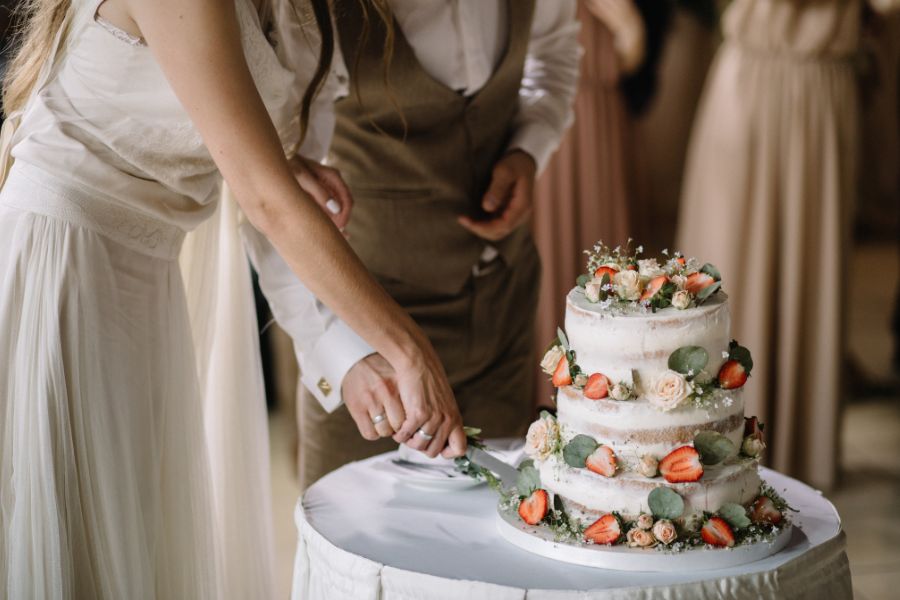 Traditional Canadian Wedding Foods
Canadian weddings are known for their delicious and hearty dishes. In fact, Poutine is one of the most popular wedding foods. It's a dish with french fries, cheese curds, and gravy. Poutine, among other things, is a staple of Canadian cuisine and a must-have at any Canadian wedding.
Another traditional Canadian wedding food is tourtière, a meat pie popular in Quebec. The filling can be made with pork, beef, or game meat, often served with ketchup or mustard. Make sure you go all out food-wise if you can!
Music and Dance at Canadian Weddings
The weddings rooted in Canada's traditions are known for lively music and dance. One famous dance that makes up the wedding is the "square dance." It's a traditional folk dance that originated in North America. The dance is performed in a square formation, with four couples facing each other.
Another famous dance is the "polka," which is a lively dance that originated in Central Europe. The music is upbeat and fast-paced, and the dance is characterized by its energetic hops and twirls.
Canada's Multicultural Wedding Traditions
Canada is a multicultural country with different traditions that you can incorporate into your wedding day. For example, if you're of Chinese descent, you may want to include a traditional tea ceremony on your wedding day. During the ceremony, the bride and groom serve tea to their parents and grandparents to show respect and gratitude.
If you're of Indian descent, you can include a traditional Mehndi ceremony on your wedding day. During the ceremony, the bride's hands and feet are decorated with intricate henna designs to celebrate her beauty and femininity.
So, customize your wedding as needed!
Canadian Wedding Venues and Destinations
Canada is home to several beautiful wedding venues and destinations. Whether you're looking for a rustic barn wedding, a chic urban wedding, or a luxurious mountain wedding, there are many options.
Some popular Canadian wedding destinations include Banff, Lake Louise, and Whistler. These destinations offer stunning natural scenery and world-class amenities, making them the perfect backdrop for a memorable wedding day.
But feel free to decorate your garden in the most remarkable way! Nothing beats a touch of nature.
Conclusion
Canadian wedding traditions are full of unique and meaningful ideas that you can incorporate into your own wedding day. From the wedding ceremony to the wedding attire, the food, the music, and the dance, Canadian weddings are a celebration of love and family.
So if you're planning a wedding in Canada, embrace these traditions. You'll definitely make your wedding day one that will be seared in your heart forever.